Custom Quote Request Form
Packaging Tape Rolls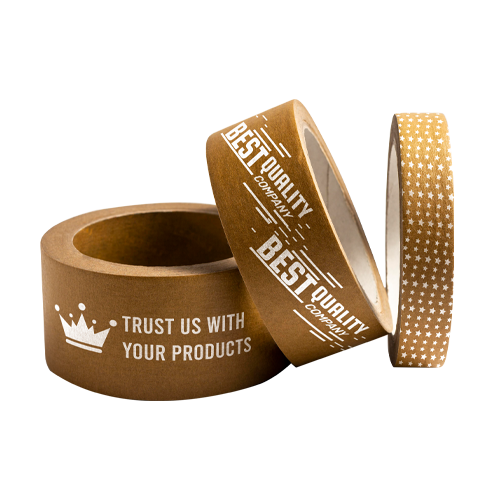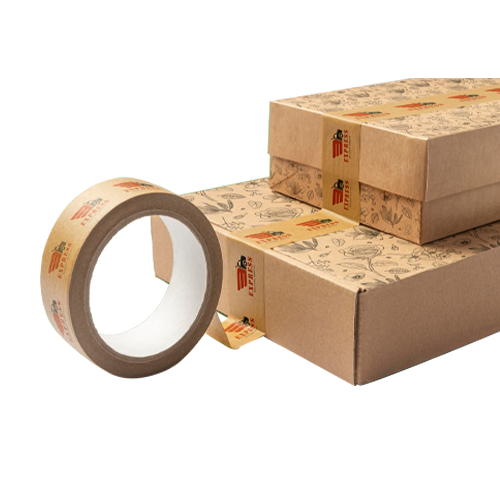 FAQ's
Specifications
Learn More
Reviews
Q:
Can I have continuous print on my tape rolls?
A:
Yes, you can have continuous print on your tapes. Please get in touch with our support team at 888-443-3850 for a custom quote.
Q:
What file formats should I send for the printing of my packaging tapes?
A:
Supported formats currently include Ai, EPS, PSD, and pdf. However, for highest quality results, we recommend creating the design in a CMYK file format.
Q:
What is a water-activated tape?
A:
Water-activated tape is a paper-based tape that feels dry before use and is activated by water. After a little bit of water is applied to the glued edge of the tape, the dry glue turns into a strong adhesive that adheres to cardboard and corrugated material easily.
Q:
Do I need special equipment to activate water-activated tape?
A:
While using a specialized tape dispenser is recommend, it is not compulsory. The tape can also be used with the aid of a wet sponge. When using a wet sponge, it is better to cut a portion of the tape and then apply water with the sponge. On the other hand, specialized water-activated tape dispensers have wet sponge rollers that moisten the tape as it pulled through. In addition, the perforated blades on the dispenser helps in cutting the tape evenly during application.
Q:
What are the advantages of using pressure-sensitive tape rolls?
A:
Pressure-sensitive tape rolls, commonly known as polypropylene tapes, provide a quick and easy solution to pack corrugated and cardboard packaging boxes. This type of tape is ideal for sealing both light and heavyweight boxes.
Q:
What are the most common types of custom printed tape rolls?
A:
Printed tape rolls can be manufactured using various types backing paper and adhesive types in order to ease of use. The most common types are:
Water Activated Tape: Also referred to as gummed tape, this type of tap is made from a paper based backing paper and starch-based adhesive. Once moisturized with water, the starch-based adhesive is activated can be applied easily to seal cardboard and corrugated boxes.  The strong adhesive makes it suitable for packing retail and shipping boxes.
Heat Activated Tape: This type of tape is made from a thermoplastic film and the adhesive is activated only when both heat and pressure is applied during the application process. This type of tape is widely used in the textile and packaging
Double Coated Tape: This is a pressure sensitive adhesive tape that is manufactured using foam, cloth, and paper material. The high temperature performance of this tape makes it ideal for use in settings where the tape may be exposed to extreme temperatures.
Foam Tapes: Foam tapes are double coated tapes and are coated with acrylic or paper layer on both sides.  This type of tape is widely used for mounting and sound damping purposes.
Material
Paper
PVC
Kraft
Style
Rolls
Size
2" Width
3" Width
Custom
Finishing
Natural Uncoated
Gloss
Features
White and Kraft colors
Customized printing
Durable
Other Options
Hot Melt Tape
Water Activated Tape
Different tape length available
SKU#
RP-032
Packaging Tape Rolls
Increase sales and enhance brand recognition with custom printed packaging tape rolls. Our professional graphic designers can help create a unique unboxing experience.
Other Retail Packaging Products