Custom Quote Request Form
Certificate Holders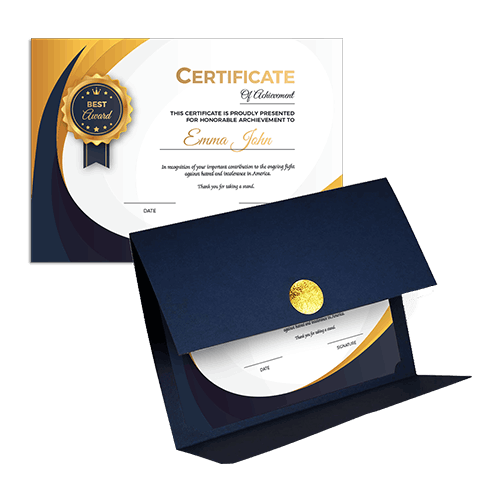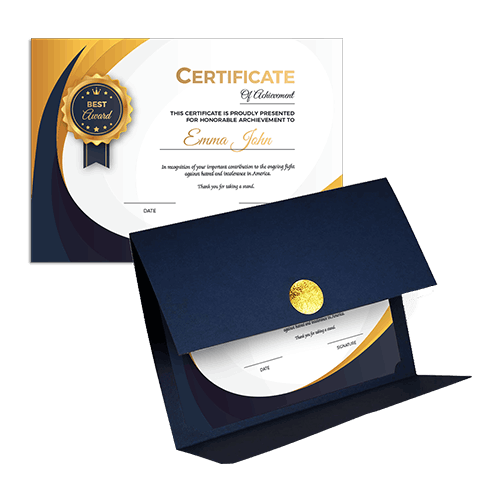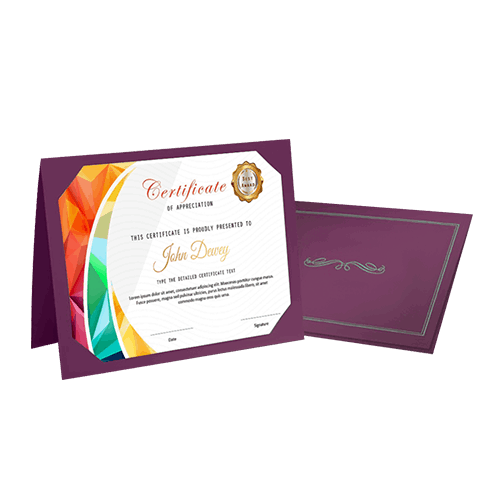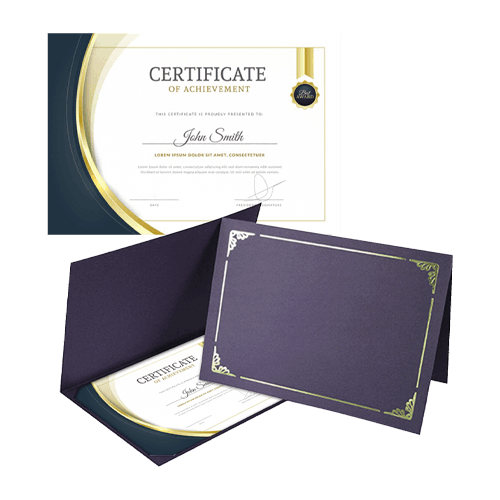 FAQ's
Specification
Learn More
Reviews
Q:
Which parts of the certificate holders can I customize?
A:
All sides of the certificate holders are fully customizable. One side of the printed sheet represents the front cover and the back cover of certificate holders once finished. The other side of the printed sheet will be the inside of the holder.
Q:
Is there a minimum order quantity?
A:
No, there is no minimum order quantity requirements. You can order as few custom certificate holders as you need. Ordering a few holders is perfect if you would like a sample to check out before committing to a larger order. However, due to initial costs involved in setting up a print job, ordering bigger quantities will typically result in a lower per unit cost. Your account representative can help you find the most efficient solution in order to keep your per certificate holders cost low.
Q:
How many panels can my certificate holders have?
A:
Two and three panel holders are the most common. However, depending on the size of each panel, you may be able to have more panels if needed. Please consult with your account representative for the most cost effective solution to fit your budget.
Q:
What if I want to print something which is not a regular certificate size?
A:
We can do non-standard sizes as-well. Please indicate your specific size requirements when communicating with your sales representative.
Q:
Can certificate holders be manufactured using linen or textured stock and what finishing option they can have?
A:
Yes, there is a wide variety of textured card stocks, including linen card stock, that can be used to design and print certificate holders. For finishing, there is a variety of options such as die cutting, foil stamping, embossing, and debossing that you can further enhance the look of your linen and textured custom certificate holders.
Q:
What is blind embossing vs print embossing?
A:
If an area is embossed without any printing, it is referred to as blind embossing or blind stamping. On the other hand, print embossing refers to the process of creating an embossed impression along with single or full color printing in the same area.
Q:
Can certificate folders have a gate fold?
A:
Yes, certificate folders can be customized to have a gate fold.
Material
White: SBS (C2S), Uncoated
Textured & Linen Stock
Stock Thickness: 12pt, 14pt, Custom
Style
Horizontal
Vertical
Corner Pockets
Corner Slits
Gate Fold
Size

9 x 12 inches


Custom
Finishing Types
Lamination: Gloss, Matte, Sandy Matte, Soft Touch, Pattern
Coating: Gloss AQ, Satin, Varnish, Spot UV, Flood UV
Features
Foil Stamping
Embossing
Debossing
Die-cut
Metallic Inks
Other Options
Spine
Outside Printing Only
Outside & Inside Printing
SKU#
CH-001
Custom Certificate Holders
Keep your certificates safe! Care for your achievements by protecting them from dust. Use certificate holders for keeping your precious certificates protected and stain free forever. A certificate holder keeps your certificates ordered and protected and does not let them discolor. Whatever type of certificates you want to keep, these custom certificate folders can provide as the handiest item. Educational institutions in the modern day are benefiting greatly from these stationery tools.
Universities, colleges and other educational institutions use these handy tools for convocations and certificate awarding ceremonies. By making use of these paper certificate folders, you no longer need to laminate your certificates and achievement credentials. These folders make your accomplishment lifetime memorable and preserved. In fact this highly useful tool makes your achievement a lifetime souvenir for you.
At Printingblue, we believe in providing our valued customers with absolute printing solutions for all their customized requirements. We offer certificate presentation folders which are also known as certificate frames, printed with business name, logo, foil stamping, embossing, raised lettering, lamination, full/spot UV coating and many other special features. Our customer care staff is courteous and helpful therefore placing an order with us is not a hassle. It is a matter of few minutes to place your cheap certificate holder printing order with us.
Noteworthy Features:
24/7 Customer Support – Efficient customer care officers are available round the clock
Gold/Silver Foils – For extraordinary appearance, we offer gold/silver foil stamping
Water Resistance – Your valuable certificates are 100% safe
Quality Checked – Each product is manually checked for quality before final shipment
Free Design Support – Free of charge designing and unlimited design revisions
Budget Effective – Premium standard printing at pocket friendly prices
 So why wait? Get in touch with our sales team today!
Other Printing Products