Custom Quote Request Form
Presentation Folders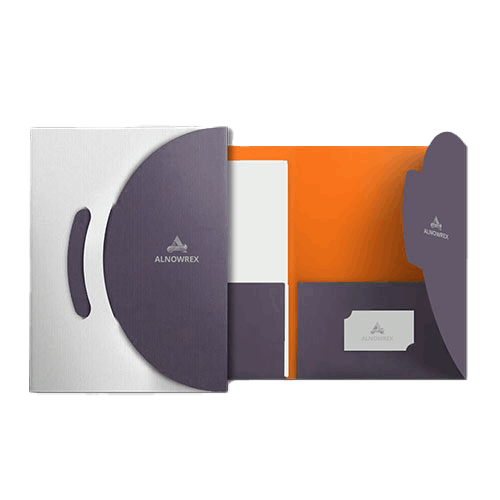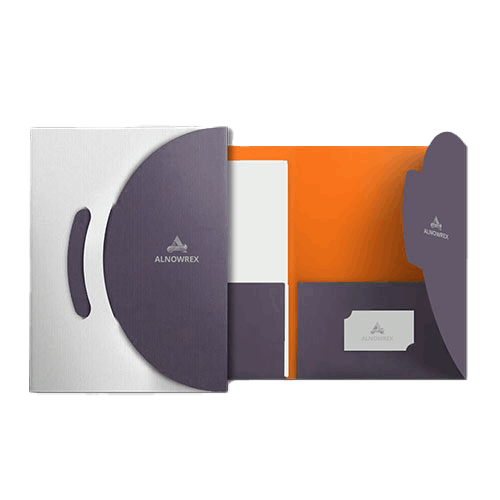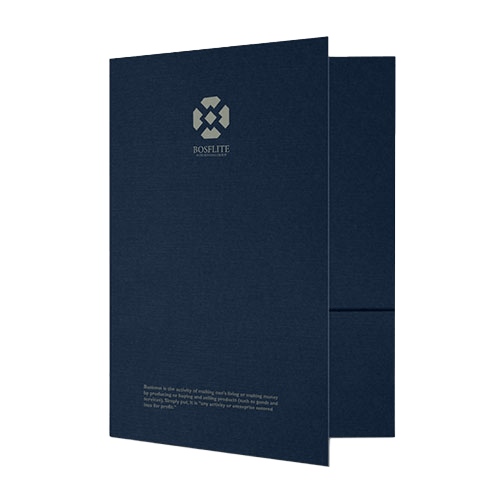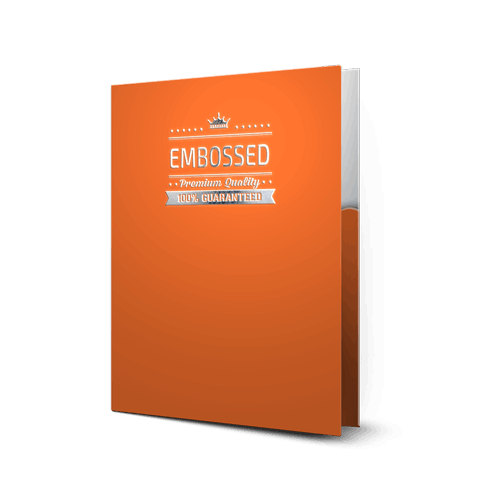 FAQ's
Specification
Learn More
Reviews
Q:
What type of folders can you manufacture?
A:
We can produce many different types of folders including:
Presentation Folders
Embossed Folders
Die-cut Folders
Linen Folders
Tri-panel Folders
Legal Size Folders
Media and Press Kits
Q:
Can I print a folder that is not a regular size?
A:
We can do non-standard sizes as-well. Please indicate your specific size requirements when communicating with your sales representative.
Q:
What stocks can be used for manufacturing folders?
A:
The standard stock used for any folder including legal sized presentation folders is 100lb cover card stock. In addition, you can choose from a wide variety of textured, linen, and kraft card stocks. You can also choose from multiple thickness options to fit your requirements.
Q:
Which parts of the custom folders can I customize?
A:
All sides of the custom folders are fully customizable. One side of the printed sheet represents the front cover, back cover, and pockets of a presentation folder once finished. The other side of the printed sheet will cover the area above the pockets on the inside of the folder and the area inside the pockets.
Q:
How many panels can my folders have?
A:
Two and three panel folders are the most common. However, depending on the size of each panel, you may be able to have more panels if needed. Please consult with your account representative for the most cost effective solution to fit your budget.
Q:
What shapes do folder panels have to be?
A:
While rectangular panels are the most common, we can add any custom die cut shape to the folder panels. Please indicate any specific requirements in your quote request.
Q:
What is the orientation of the pockets on custom folders?
A:
Generally, you can have vertical or horizontal pockets. Some options may be limited in the case of three panel folders due to the size limitations of the printed sheet. Your account representative can help you design the appropriate folder to fit your requirements.
Q:
How many pockets can I have on my folders?
A:
When designing a two panel folder, you can have zero, one, or two pockets. On three panel folders, you can have up to three pockets. We do recommend including a spine if you plan to insert a large number of sheets in the pockets.
Q:
What does the term 'spine' mean?
A:
A spine is an added space in the center crease of the folders to accommodate a large number of sheets that need to be placed in the presentation folder. A spine can also be added to the pockets in order to provide additional space.
Q:
What does the term 'Gate-Fold' mean?
A:
Gate fold is a folding technique that involves two side panels that are half the width of the center panel. These two side panels fold inwards and open like two doors of a gate to reveal the content printed on the center panel or enclosed inside.
Q:
Can a pocket be added to gate-fold folders?
A:
Yes, you can add a pocket of your preferred shape and size to your gate fold folders. You can also add business card slits. The pocket is typically placed on the center panel and is used to hold other marketing materials such as inserts, sales sheets, and brochures.
Q:
Are linen presentation folders similar to textured presentation folders?
A:
Yes. Typically, any folders that are made of a textured card stock are called textured presentation folders. There is a wide variety of textured card stocks, including linen card stock, that can be used to design and print presentation folders.
Q:
Can legal-size folder have a third panel?
A:
Yes, legal size folders can have three panels. These Tri-Panel folders can be customized just like any other folder. In addition, customized folding types, such as a gate fold, can also be used in the design of tri-panel folders.
Q:
What are Media & Press kit folders?
A:
Media and Press kit are folders that are specially designed to carry key business information, a selection of important press releases, and other print content in a convenient and organized manner. These folders are typically used to hand out important information during events such as a product launch or a press conference. We can also produce information inserts, staggered sales sheets, brochures, letterheads, and other promotional items that are typically included in press kits. We can also assemble the press kits before shipping. These kits will be assembled and ready to go once delivered.
Q:
What is a debossed folder vs embossed folder?
A:
Debossing is a process that creates a depression in the target surface while the embossing process creates a raised surface. You can choose one or both of these options to enhance the look of your presentation folders.
Q:
What is the difference between Spot UV and Flood UV in folders?
A:
If a targeted area of the design is coated with UV coating, that particular area stands out from the rest of the design, this process is referred to as Spot UV. If we apply UV coating on the whole surface of the folders from edge to edge, this process is known as flood UV. Folders with flood UV will have an extra shiny look compared to the standard gloss look.
Q:
What is 4/0 vs. 4/4 when designing a custom folder?
A:
4/0 refers to printing full color on one side of the printed sheet. This side represents the front cover, back cover, and pockets of a custom folders once finished. On the other hand, 4/4 refers to printing full color on both sides of the printed sheet. In this case you can customize the front cover, back cover, pockets, and the area above the pockets on the inside of the folder.
Q:
What is the process for resolving any quality issues?
A:
We take great pride in the quality of our products and services. If you encounter any issues with either our service or quality, please feel free to call or write to us. We consider customer feedback an essential part of how we improve our business processes and service. In the unlikely event that there are product issues, please let us know and we will be happy to discuss all possible options with you in order to find a solution that works for you.
Material
White: SBS (C2S), Uncoated
Textured & Linen Stock
Stock Thickness: 12pt, 14pt, Custom
Style
Horizontal
Vertical
Bi-Panel
Tri-Panel
Gate Fold
Size

| | |
| --- | --- |
| Mini | (4 x 9 inches) |
| Pocket | (6 x 9 inches) |
| Presentation | (9 x 12 inches) |
| Legal | (9.5 x 14.5 inches) |
| Custom | |

Finishing Types

| | |
| --- | --- |
| Coating: | Lamination: |
| Gloss AQ | Gloss |
| Satin | Matte |
| Varnish | Sandy Matte |
| Spot UV | Soft Touch |
| Flood UV | Pattern |

Features
Foil Stamping
Embossing
Debossing
Die-cut
Metallic Inks
Custom Sized Pockets
Other Options
Vertical Pockets
Horizontal Pockets
Reinforced Panels
Spine
Business Card Slit
CD Slit
Brochure Slit
Outside Printing Only
Outside & Inside Printing
SKU#
PF-001
Customized Presentation Folder Printing
Businesses have used folders for decades, and it's easy to see why. They're a simple and efficient way to hold important documents. But folders can be so much more. They can help create a great first impression that will inspire lasting confidence in your brand.
Whether you use them for conferences, business meetings, or sales pitches, our customized presentation folders at Printingblue.com allow you to craft the perfect design and let you come prepared with a professional, polished look.
Create Using the Best Materials
The presentation folder printing materials we provide are of the highest quality and allow you to choose from a wide array of options. From the card stock to the sizing, you can select each feature to suit your unique needs. We offer plenty of finishing types, such as Glossy UV and Matte Lamination, so your folders will look precisely the way you want.
Design by Yourself or with Help
Feel free to craft your unique design, and we'll help it become a reality. If you're unsure of where to start, don't fret. We offer free design help from experienced professionals and can even design your folders for you at no additional cost, so you'll have less to worry about. You'll be able to review the design of your customized presentation folders and make any tweaks you'd like.
How Can Custom Folders Look Better?
Starting with high-quality paper stock, we can print your customer folders with your logo and name, as well as adding:
Water-Resistant Coating: Optionally UV coated for additional strength
Gloss or Matte Lamination: Coated with a plastic finish
Foil Stamping: Adds a metallic finish to letters or logo
Embossing: Raises design elements out from the paper surface
Die-Cutting: Cuts away parts of a folder for eye-catching designs
Additional Pockets: Customized pockets for specific business needs
Slits: Hold business cards, compact disks, and other items
Plus, we use the fully automated printing equipment using a CMYK/PMS (Pantone Matching System) process to print in full color and keep printing prices as low as possible—and turnaround times as fast as possible.
Order Folders or Free Samples
We can help you design custom folders for any business application if you need to hold booklets, catalogs, brochures, documents, and more. We can create folders for:
Presentations
Certificates
Filing cabinets
General business use
And many other applications
Your folders can be produced in landscape or portrait orientation. We also offer design templates you can quickly choose from. We'll help you design folders that fully satisfy your business needs. We'll ship your completed custom folders to you for free.
At Printingblue.com, we offer a free sample kit that will give you a taste of the possibilities we can create for you.
Other Printing Products