Custom Quote Request Form
Presentation Folders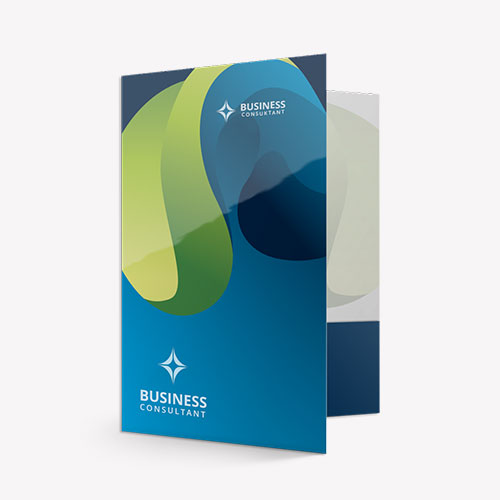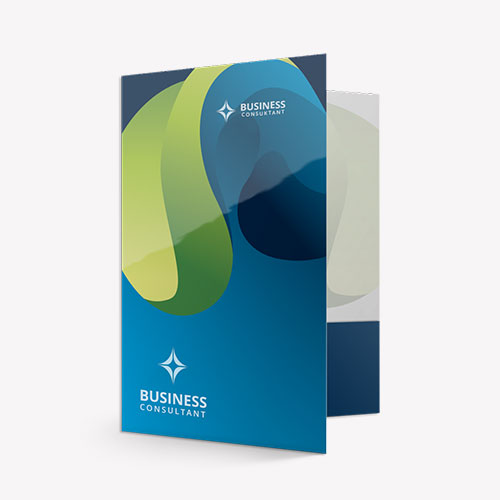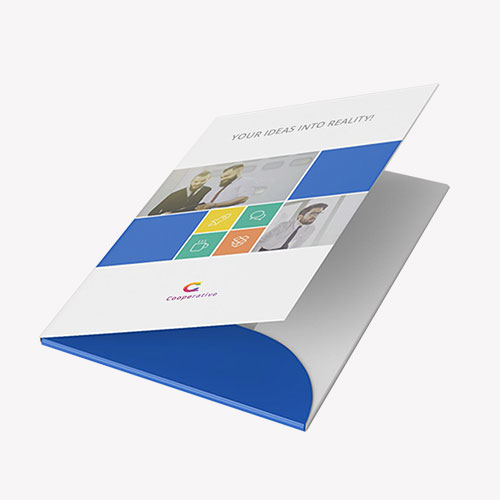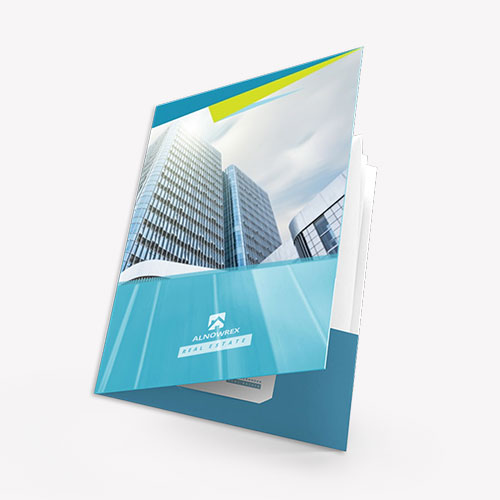 Specification
Learn More
FAQ's
Reviews
Key Features

Available in all custom shapes and sizes
Standard Sizes: 6" x 9", 9" x 12", 9.5" x 14.5" (Pockets, CD & Business Card, Die-cut and Embossing,Spot UV Coating and Foil Stamping)
Stock: 100lb and 120lb cover card stock
Full Color CMYK / PMS ( Pantone Matching System ) Printing Process
Printed on premium quality cover card stock
100% Quality and Customer Satisfaction is Guaranteed!
Free Shipping and Handling

Stocks Available
100lb C2S, 120lb C2S, Kraft Card Stock (80lb & 100lb)
Color Choice
Full Color CMYK / PMS (Pantone Matching System) Printing Process
Finishing Types
Gloss Lamination, Matte Lamination, Gloss AQ, Gloss UV, Spot UV, Embossing, Foiling
Included Options
Die Cutting, Gluing, Scored
Artwork Requirements

Layered Artwork File with Accurate Die-Line
Color Mode: CMYK
Die-Line and Design in Separate Layers
All Text Content Outlined
PMS Swatch Noted If Applicable

Proofreading
Digital Proof (Press-Ready File) Approved by Customer
Shipping
Ship Flat
Customized Presentation Folder Printing
Businesses have used folders for decades, and it's easy to see why. They're a simple and efficient way to hold important documents. But folders can be so much more. They can help create a great first impression that will inspire lasting confidence in your brand.
Whether you use them for conferences, business meetings, or sales pitches, our customized presentation folders at Printingblue.com allow you to craft the perfect design and let you come prepared with a professional, polished look.
Create Using the Best Materials
The presentation folder printing materials we provide are of the highest quality and allow you to choose from a wide array of options. From the card stock to the sizing, you can select each feature to suit your unique needs. We offer plenty of finishing types, such as Glossy UV and Matte Lamination, so your folders will look precisely the way you want.
Design by Yourself or with Help
Feel free to craft your unique design, and we'll help it become a reality. If you're unsure of where to start, don't fret. We offer free design help from experienced professionals and can even design your folders for you at no additional cost, so you'll have less to worry about. You'll be able to review the design of your customized presentation folders and make any tweaks you'd like.
Order a Sample Kit
At Printingblue.com, we offer a free sample kit that will give you a taste of the possibilities we can create for you.
Q:
What is 4/0 vs. 4/4 when designing a customized presentation folder?
A:
4/0 refers to printing full color on one side of the printed sheet. This side represents the front cover, back cover, and pockets of a presentation folder once finished. On the other hand, 4/4 refers to printing full color on both sides of the printed sheet. In this case you can customize the front cover, back cover, pockets, and the area above the pockets on the inside of the folder. 
Q:
The proof for my presentation folder looks blurry. Will it print that way?
A:
No. The emailed proofs only show how the graphics align on the presentation folder. The final print is much sharper, as long as vector or high-resolution graphics have been used in your design file. You will be contacted if your graphics appear to be at too low a resolution. If you have any concerns, please feel free to ask us a question.
Q:
Which parts of the presentation folder can I customize?
A:
All sides of the folders are fully customizable. One side of the printed sheet represents the front cover, back cover, and pockets of a presentation folder once finished. The other side of the printed sheet will cover the area above the pockets on the inside of the folder and the area inside the pockets.
Q:
Is there a minimum order quantity for Presentation Folders printing?
A:
No, there is no minimum order for presentation folders printing. You can order as few custom presentation folders as you need. Ordering a few folders is perfect if you would like a sample to check out before committing to a larger order. However, due to initial costs involved in setting up a print job, ordering bigger quantities will typically result in a lower per unit cost. Your account representative can help you find the most efficient solution in order to keep your per pocket folder cost low.
Q:
How many pockets can I have on my custom presentation folders?
A:
When designing a two panel folder, you can have zero, one, or two pockets. On three panel folders, you can have upto three pockets. We do recommend including a spine if you plan to insert a large number of sheets in the pockets.
Q:
What is the orientation of the pockets on the custom presentation folders?
A:
Generally you can have vertical or horizontal pockets. Some options may be limited in the case of three panel folders due to the size limitations of the printed sheet. Your account representative can help you design the appropriate folder to fit your requirements.
Q:
How many panels can my customized presentation folders have?
A:
Two and three panel folders are the most common. However, depending on the size of each panel, you may be able to have more panels if needed. Please consult with your account representative for the most cost effective solution to fit your budget.
Q:
What options can I add to my folders?
A:
These are the most commonly used options when designing presentation folders:
Spot UV Varnish: Spot UV varnish is an ultra-high gloss finish that can be applied over a matte or soft-touch laminate in order to highlight specific areas of a page. It can also look particularly effective when used to print a glossy logo over a flat color.
Business Card Slots: Card slots are two or four diagonal slits that can be added to most of our folders on the inner flaps, allowing you to insert a removable business card.
Foil stamping: Foil stamping is a process where a shiny foil sheet is physically stamped with heat and pressure onto the card for an enhanced decorative look. You can consult with our sales representative for more details and specific color availability.
Embossing & Debossing: Embossing or Debossing is the process of leaving a relief imprint on the card. It is applied by utilizing an engraved metal die. When such a die is pressed on the card with an appropriate level of pressure, it leaves an impression.
Q:
What shapes do presentation folder panels have to be?
A:
While rectangular panels are the most common, we can add any custom die cut shape to the presentation folder panels. Please indicate any specific requirements in your quote request.
Q:
What if I want to print something which is not a regular folder size?
A:
We can do non-standard sizes as-well. Please indicate your specific size requirements when communicating with your sales representative.
Q:
What does the term 'spine' mean?
A:
A spine is an added space in the center crease of the folders to accommodate a large number of sheets that need to be placed in the presentation folder. A spine can also be added to the pockets in order to provide additional space.
Q:
Can you send me samples of your custom presentation folders?
A:
We can send samples of our recent print orders. Please submit a sample request and our sales representative will be in touch so that appropriate samples can be sent.
Q:
What type of presentation folders can you manufacture?
A:
We can produce many different types of folders including:
Other Folders